Jump to:
---
Come and join any of the amazing tabletop or live-action roleplaying games being held at Leprecon 42!
To join a game (€2), sign up at the Front Desk before it begins. Make sure to check out the full descriptions for each game:
---
For Leprecon 42, we have a jam-packed weekend full of card-slinging action.
A Card Games Pass or Con Pass is required to access any of the events below, but both of our major tournaments come with a Card Games Pass included in the ticket price.
In addition to all the events listed, we'll have casual Commander tables open and available for people to play at.
Friday
Event
Registration
opens
Event
start
Entry
fee
Jumpstart 2022 Sealed
18:00
19:00
€ 18
Saturday
Event
Registration
opens
Event start
Entry fee
Commander Legends: Battle for Baldur's Gate Commander Draft
10:00
11:00
€ 18
The Warchest RCQ
10:00
11:00
Dominaria Remastered Draft
13:00
14:00
€ 30
Pauper Format Challenge
17:00
18:00
€ 10
Sunday
Event
Registration
opens
Event
start
Entry
fee
Leprecon Proxy cEDH Tournament
10:00
11:00
€ 20
Modern Horizons 2 Draft
13:00
14:00
€ 35
---
Vendors
We're lucky enough to have a great variety of traders here at Leprecon 42. Don't know where to start? Don't panic! We've got you covered.
LauraAndTheCanvas
Instagram: lauraandthecanvas
https://instagram.com/lauraandthecanvas
A variety of goodies to be found, including D&D, sci-fi, and possum inspired paintings, prints, pins, stickers and mugs!
Matty Makes
Instagram: matty_makes
It's a fact that gamers can never have enough dice. And it's not just dice Matty Makes can sell you – hit him up for wooden D&D accessories and other nerd paraphernalia.
Wonderfool
Instagram: _wonderfool
Prints, dice, jewlery, and stickers galore, Wonderfool has you covered with a fantastic collection of art.
Plasticraic Gaming
Facebook: Plasticraicgaming
Want to buy some Battletech? Plasticraic Gaming is the place to be! Never tried it but you're interested? Then Plasticraic Gaming is still the place to be!
Happy Little Imp
Instagram: happylittleimp
Want some cute and colourful art on a bag, charm, print, or sticker? Happy Little Imp has you covered!
Pawprint Paintings
Instagram: pawprint_paintings
Colourful, fantastical, and a little bit spooky, Pawprint Paintings will be selling art prints, custom diec boxes, badges, stickers, original paintings, keychains, and bookmarks.
---
Special Events
Dungeons Are Forever
Right Lamias and Gentlefiends, I'm sorry to announce via divination that we will be having a small adventurer problem; and by small I mean several thousand new recruits being pumped into our dungeon until they're all dead, or we're all dead (which thinking about it might be their actual plan)…
Anyhow your orders minions are simple – reset the traps, pick up any shinies and kill as many of this insufferable goon legion of humans before you die. Don't forget, we have reinforcements in this dungeon, so feel free to die in the line of duty.
Remember, your Dungeon Masters need you (possibly to die).
An open table RPG of monsters defending their dungeon against endless waves of adventures.
More info at fb.me/e/3wwFEGlQZ
LARP 101 Panel
Saturday 12:00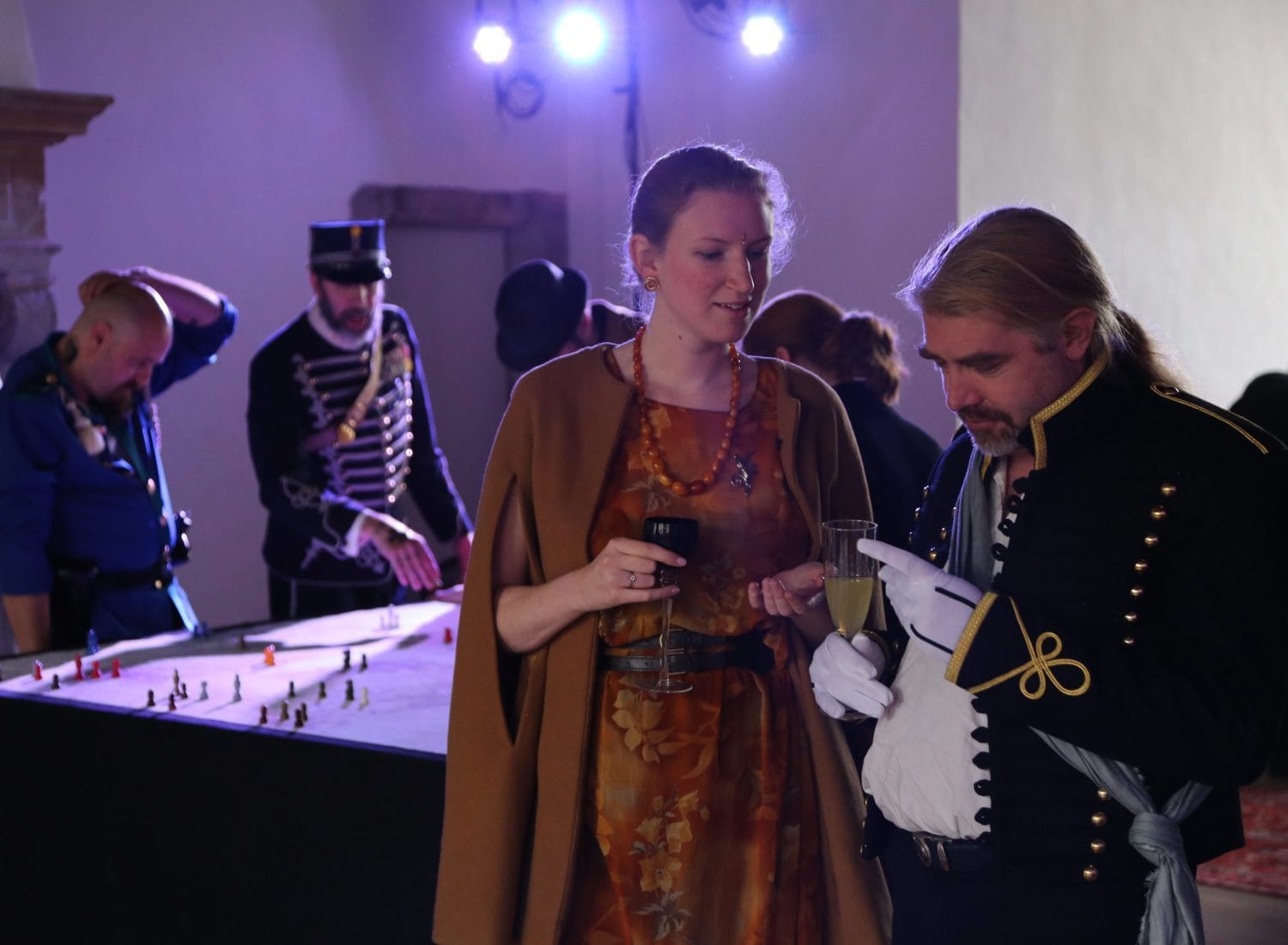 What even is a Live Action Roleplaying Game?
What does a LARP look like?
Have I already played a LARP?
How do I run one? Is it like running a regular RPG?
All of these questions and more will be addressed at this talk, as we discuss what LARPs look like in theory and practice!
The Eye of the Champion
Saturday 14:00 – 17:00
Word has it that he is seen on the moors once again, Súil Dubh the Wanderer. Once he was mortal like you or I, but at the Battle of Hurdleford he became something more. Now he seeks another worthy to take up his blade and fight for the glory of the gods.
Leprecon calls valiant warriors together in a tournament to name a champion worthy of an ancient legacy! There are two ways to play, as a spectator or as a fighter.
Fighters will take pre-generated characters using the LARP system used in Five Oaths and participate in a bracketed elimination tourney until one fighter reigns supreme. Spectators will take on the roles of distinguished guests: merchants, warlords, or sinister schemers. All of them have an interest in making sure the next fighter to hold the blade of Súil Dubh owes them for their greatness, and will be able to aid their favoured fighter.
There will be a prize for the best fighter and the best spectator. Those taking part as combatants will require insurance from Country Sports Ireland. If you already possess insurance as a player of the Five Oaths system, that is relevant here. Otherwise, you can purchase two-day cover from https://www.ccc3.co.uk/home
Be sure to sign up before the event to participate! And don't forget to secure insurance if you're a combatant – shouldn't take too long.
Battletech
Saturday – Sunday
Alpha Strike As the internecine fighting dies down, Prince Hjalmer Miraborg decides the best way to keep the Dominion together is to engage in a Short, Victorious War with the Draconis Combine, sending a thrust towards Luthien.
Battletech Ireland returns to Leprecon!
Saturday: Battletech demo/participation games
Sunday: Alpha Strike participation game
Leprecon Pub Quiz @ Foley's
Friday 8pm
Our pub quiz is an annual tradition, so why not make an Intelligence check and come along to Foley's pub from 8pm.
Entry: €10/team of 4
Quiz starts at 9pm
Leprecon Social @ The Square Ball
Saturday 8pm
Gaming is thirsty work, so why not join us in the Square Ball on Saturday evening!
Even better – the gaming need not end as the Square Ball has a great selection of board games.
Leprecon Closing Ceremony
Sunday afternoon
Join us as we close out another year of Leprecon. There'll be a few words of gratitude, the award for best staffer, and celebrating a con well run.